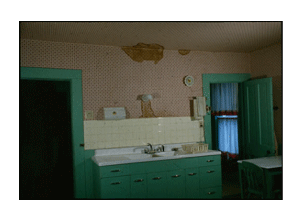 Water Damage
Water flows through our homes everyday, and we take it for granted as long as it remains safely contained within the pipes. When a home gets a leak the water we have taken for granted becomes a destructive force.
Water damage in your home is something that needs to be dealt with quickly and correctly. Improper or incomplete drying can result in a variety of consequences.
Most water damage, with the exception of floods and ground water are typically covered under your homeowners insurance policy. Whether covered or not you need to protect your home by taking immediate action so you can minimize the damage.
The first thing you can do is to find and stop the source of the water. If the toilet or washing machine line is leaking, you can shut off the valve that supplies that fixture and stop the leak. If a pipe is broken, it will be necessary to shut the water to the entire house until the leak is repaired.
You should do some reasonable things to minimize water damage. This may be as simple as mopping up the water with towels, or using a wet/dry vacuum to remove the excess water. Do not take steps on your own if the water contains sewage, such as a toliet backup. The bacteria in the water can be dangerous and needs to be dealt with using proper protective equipment.
As soon as possible move contents away from the water. Be careful of cardboard and paper products, which absorb water quickly and also wood furniture. Most of todays furniture is made with a thin wood veneer over a core of particleboard, and this material will also absorb water quickly.
A common mistake is to raise the heat in an attempt to dry things out. Excessive heat can suck the moisture out of surfaces much too quickly, resulting in secondary damage such as cracking, splitting and warping.
Another crucial element in any water damage situation is to get the help of an experienced restoration contractor as quickly as possible. Restoration contractors can be found in the yellow pages under "Water Restoration", "Fire Restoration" or in the carpet section.